Living in Arizona
Arizona's cities and towns are a delightful mix sprawling urban centers, tiny charmers, historic haunts and cultural gems. Each one offers a treasure trove of distinctive experiences worth discovering. Old West towns invite you to walk the streets of Arizona's boisterous frontier past. Quiet artist enclaves welcome free spirits inspired by the beauty of their surroundings. Lively cities beckon with shows and trendy restaurants.
North Central
A diagonal strip of towering pine trees and stunning red rocks, discover charming frontier towns, including Prescott and Jerome. Sedona's otherworldly beauty encourages reflection.
Northern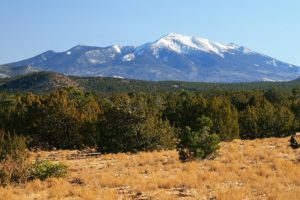 A region of ups and downs: from the floor of the Grand Canyon to the top of Humphreys Peak, the state's highest mountain. Laid-back Flagstaff is a favorite for skiing, find skyscrapers of earth in Monument Valley, and splash into Lake Powell.
Phoenix & Central
The center of the state and the center of it all, this region is where big things happen. You'll find some of Arizona's largest cities and South Mountain Park, the largest municipal park in the United States, here. Plus, professional sports teams and award-winning chefs.
Tucson & Southern
As far south as you can get before hitting Mexico – but the region's offerings make it hard to leave, passport or not. Explore thriving Tucson, Arizona's wine country, Old West fun in Tombstone, and more here.
West Coast
Arizona's not all desert. Cool off in any of the region's lakes and reservoirs or the Colorado River. Adventure abounds north to south – communities in this region have museums, Route 66 nostalgia, natural wonders, and wildlife.
Attractions and Recreation
Grand Canyon National Park
The Grand Canyon achieved National Park status in 1919, although it was afforded Federal protection since 1893 as a forest reserve, and later as a National Monument. Only 80 miles northwest of Flagstaff, the Grand Canyon continues to see close to five million visitors each year. The most visited area of the park is Grand Canyon Village on the south rim. This area is listed as a National Historic Landmark District consisting of 257 structures.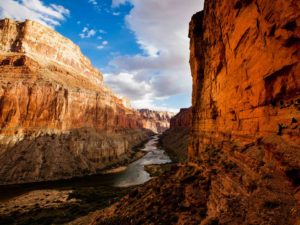 There are a variety of ways to experience the Grand Canyon based on each person's interest. Visitors can travel to the many viewpoints via shuttle bus or commercial buses. There are also information centers, museums and interpretive ranger programs where you may learn more about the canyon and its history. If you are feeling adventurous, take a day hike above the rim, or plan for a camping trip down into the canyon. One of the more famous ways to experience the Grand Canyon and Colorado River is a rafting trip. These trips are offered for varying lengths from many different river running companies.
Scottsdale's Museum of the West
Scottsdale's Museum of the West celebrates the art, history, culture and unique stories of the 19 states comprising the American West. The rotating exhibitions feature Western art, rare historic artifacts and cultural treasures on loan from some of the world's foremost collectors and institutions.
Heard Museum
The internationally acclaimed Heard Museum is one of the best places to experience the myriad cultures and art of American Indians of the Southwest. Located on Central Avenue in downtown Phoenix, the museum hosts 200,000 visitors a year. The museum's 11 spacious exhibit galleries and beautiful outdoor courtyards feature outstanding traditional and contemporary American Indian art.
Arizona Science Center
Arizona Science Center provides exploration, education and entertainment for all ages. Nestled in the picturesque setting of Heritage and Science Park, the Science Center is a unique landmark designed by renowned architect Antoine Predock. The combination of ramps, hallways, galleries and terraces in this 140,000-square-foot building creates an intriguing environment of investigation and discovery. The Center contains four levels of exciting "hands-on" exhibits, a state-of-the-art planetarium, and a 5-story high giant-screen theater. The exhibits and galleries are designed to educate and entertain kids of all ages.
Children's Museum of Phoenix
Hands-on, interactive exhibits are designed to engage the minds, muscles and imaginations of children up to age 10 and the grown-ups who care about them. Climb to new heights in the Climber, navigate your way through Noodle Forest, or build a fort in Building Big. These are just a few of the adventures that await you at the Children's Museum of Phoenix.
Goldfield Ghost Town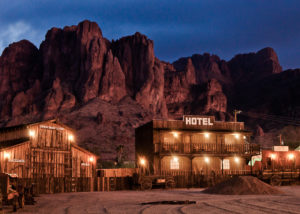 Take a trip back into the 1800's when gold mining and gun fighting was the norm. Goldfield Ghost Town is Phoenix's only authentic ghost town that offers guests the chance to learn about the past and enjoy some great entertainment. Witness an Old West gun fight performed by the Goldfield Gunfighters, pan for gold, and take a ride on Arizona's only narrow gauge train. You can even take an underground guided tour through the mines or a jeep tour across the scenic Apache Trail.
i.d.e.a. Museum
The i.d.e.a. Museum's three main exhibit areas and special galleries encourage kids to explore their imagination through design, science and technology. Toddlers and crawlers up to age five will love the soft sculptures of ArtVille, while older kids can doodle, dance and design in the HUB.
Penske Racing Museum
The Penske Racing Museum showcases an amazing collection of cars, trophies and racing memorabilia chronicling the career of one of the most successful dynasties in all of sports. Penske Racing has over 40 years of racing experience and over 300 major race wins highlighted by 15 Indianapolis 500-mile race victories.
Arizona Museum of Natural History
Explore Arizona and the Southwest from the creation of the earth 4.5 billion years ago to modern day. See some of the biggest dinosaurs that ever lived in Dinosaur Hall, and pan for gold (or get thrown in jail) in the History Courtyard.
Pueblo Grande Museum and Archaeological Park
Pueblo Grande Museum is incorporated in a 1,500-year-old archaeological site, the largest in Phoenix. A trail takes guests through a prehistoric Hohokam village, featuring an excavated platform mound, ball court, and replicated prehistoric houses. Children are able to participate in hands-on activities to learn about the science of archaeology.
Phoenix Zoo
The Phoenix Zoo offers families the opportunity to see wild animals up-close and personal. Watch as Sumatran tigers roam the savanna, feed towering giraffes at the giraffe encounter, and witness Asian elephants play in a watering hole. The zoo also features a monkey village, safari train, and stingray bay. Kids can even splash around in the Yakulla Caverns or Leapin' Lagoon from March-October.
Out of Africa Wildlife Park
Experience Africa in the heart of Arizona. Tiger Splash gives you the chance to see Bengal and Siberian tigers interact in a predator-and-play relationship, romping and splashing in a large pool. The Giant Snake Show teaches kids about various giant snakes and guests can even touch and hold some of the largest species. Hitch a ride on the African Bush Safari Tour to get an inside look at the animals and their habitat with a 40-minute narrated tour.
SEA LIFE Arizona
At SEA LIFE Arizona, guests can interact with creatures in touch pools and encounter over 5,000 sea animals, including sharks, rays, seahorses, and tropical fish throughout the aquarium. The 360-degree ocean tunnel is an experience unlike any other in the desert.
Wet 'n' Wild
Wet 'n' Wild features over 30 water slides and attractions including Maximum Velocity, the first and only ride of its kind in the world. This coaster allows guests to race in tandem tubes down two slide tracks with over 830 feet of drops and curves. There are plenty of attractions for younger kids, as well: Wet 'n' Wild Jr. features a pint-sized water park designed for kids and their families to play with water toys, splash through spray zones, and slide through various water attractions like the Tiny Typhoon.
Industry and Economy
Manufacturing is the leading economic activity with electronics, printing and publishing, processed foods, and aerospace and transportation leading sectors. High-technology research and development, communications, and service industries are also important, as are construction and tourism. Military facilities contributing to Arizona's economy include Fort Huachuca, Luke, and Davis-Monthan Air Force bases, and the Yuma Proving Grounds. Testing and training with military aircraft and desert storage of commercial and military planes are both major undertakings.
The mountains in the north and central regions have 3,180,000 acres (1,286,900 hectares) of commercial forests, chiefly ponderosa pines and other firs, which support lumber and building-materials industries. The U.S. government owns about 95% of the commercial forests in the state. National and state forests attract millions of tourists yearly. Tourism centers in the north on the Grand Canyon, the Painted Desert, the Petrified Forest, meteor craters, ancient Native American ruins, and the Navajo and Hopi reservations that cover nearly all of the state's northeast quadrant. Southeast Arizona's warm, dry climate and Spanish colonial ruins also attract a large tourist trade, as do golf courses and other leisure facilities.
Cost of Living
The cost of living in Arizona is relatively low compared to the rest of the United States. As of October 2015, the median sale price for a one-bedroom home in Arizona is an affordable $100,000, according to Zillow. The median sale price for two-bedroom homes is $156,000. The median sale price jumps to $191,000 for three-bedroom homes, and $246,000 for four-bedroom homes. The median sale price for all properties in Arizona is $205,000.
If you prefer to rent instead of purchase a home, rent is quite affordable. The average rent for a studio apartment in Arizona is $725. That's $346 cheaper than the average studio in the United States.  A one-bedroom apartment in Arizona goes for an average of $809, $188 cheaper than the U.S. average. The average rent for a two-bedroom apartment in Arizona is $1,258. That's $37 over the U.S. average. If you need three bedrooms, you can expect to pay around the Arizona average of $1,602, $71 more than the national average.
Income tax rates in Arizona range from 2.59% to 4.54% depending on your bracket. Sales tax in the Grand Canyon State is high though, with rates that range from 5.85% to 10.7%. The base state sales tax rate is 5.6%, but counties and cities add their own rates on top of that. Arizona's sales taxes are the ninth-highest in the nation.